Teikoku Printing Inks provides one-stop solutions from research to manufacturing and sales activities based on its 12 locations (7 in Japan and 5 overseas), and has been doing business with many customers based on its technology and track record.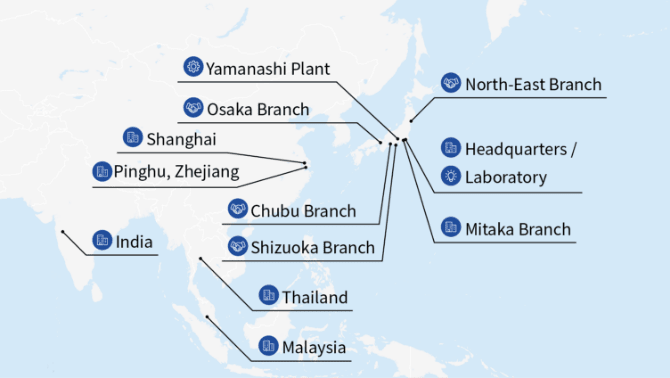 Sales Department

What we are proud of is that we have an extremely wide variety of products so that we can print on any substrate other than water (liquid) and air (gaseous matter). We offer various functional inks depending on the type of substrate. Through our 7 sales offices in Japan & 5 overseas offices we endeavor to provide prompt service and timely new product development to meet our customers' needs. We will propose solutions tailored to your individual needs.

Laboratory

We have what we call T3C technical center adjacent to our headquarters. R&D and technical services are carried out at the center. There are general research rooms, an analysis room, a physical test room, an air-conditioned print testing area with several actual production machines. The development group works very hard with global vision to develop new inks which will be needed in 21st century.

Production Department

Our production department has a plant in Yamanashi. Screen inks are made in Yamanashi plant, which is located in Yamanashi prefecture, famous in the grape and wine industry. The plant obtained ISO 9001:2000 and ISO 14001 approval.

Business Management Department

This area includes the General Affairs Department, Business Management Department and Purchasing Department. It is the company's central computerized administration area including the order processing (receiving, dispatching and collections). The Business Management Department's aim is to be pro-active for Teikoku Printing Inks' customers.