Halogen Free, Environmentally Friendly Binder for FIM/IMD
IMB-HF006 Binder
IMB-HF006 is an environmentally-friendly Binder for In-Mold Decoration (IMD)/ Film Insert Molding (FIM). This product contains no Benzene, Toluene, Xylene, or Isophorone. No intentional use of Halogen (Bromine (Br) or Chlorine (Cl)) compounds were included in its manufacturing process.
♦ With Halogen Free Ink series, such as IPX-HF, Halogen Free FIM/IMD parts can be made.
♦ With its highly transparent property, it is suitable for use on parts with see-through openings and transparent resin moldings.
Applications & Substrate
Printing on PC sheet or treated PET film pattern-printed sheets to improve adhesion to the molding resin.
Suitable substrates are PC, PC/ABS, ABS, AS, and PMMA,(ABS, AS, PS, etc.).
– Adhesion may vary depending on the grade of molding resin. Preliminary testing is strongly recommended before a commercial run.
– Especially, ABS, AS, PS, there are some compatibility and incompatibility with those materials of certain manufacturers. Confirmation of compatibility by thorough trial production is requested.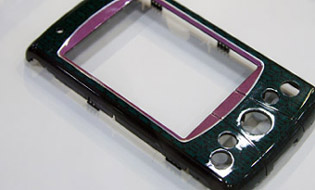 Special Features
Halogen compounds (Bromine (Br), Chlorine (Cl)) are not intentionally used in raw materials.
Superior safety with its Benzene, Toluene, Xylene, Isophorone free content.
Screen printable and can be spot printed on desired part only.
One-pack rapid dry ink and provides excellent workability.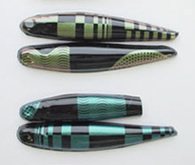 Attention
Refrain from using other solvents and catalysts than specified ones as Halogen components may interfuse.

Check halogen contents of squeegee rubber, emulsion, substrate and other equipments before using as they may contain halogen content as well.
Thinning & Cleaning
Stir well before every use.
Thinning is not required. If needed, dilute with Z-703 Solvent, less than 5%.
Excessive thinning and/or using other solvent may cause weaker adhesion, blocking, or poor printability.
"Screen Cleaner N" is recommended to clean the stencil.
Printing
T-200-250 is recommended as stencil. Coverage at T-250 mesh is 30-35 m2/kg.
Drying
Tack-free drying is about 5 minutes at 80°C. Residual solvent within ink layer degrades the adhesion to injection resin. 

Heated drying is needed

 including pattern printed ink-layer. 

The final drying must be done depending on the pattern printed ink's drying and curing properties.
IMD/FIM Adhesion Performance Test:
Printing properties
Test Ink: IPX-HF979 Black, Substrate: Polycarbonate sheet (0.5 mm thick).
Printing: T-250, Solvent: F-003, Catalyst Mixing Ratio: 240 Catalyst, 10%
Drying: 5 min. at 80 °C.(Box Dryer)
Test Binder: IMB-HF006 Binder (No Dilution)
Printing: T-250 mesh, Drying Condition: 90°C for 60 min. after printing Binder
Test Method
IPX-HF or MB-HF Binder printed film placed into mold and injected polycarbonate resin on Binder printed side under following conditions.
Injection Conditions
Molding pressure: 60 tons; Mold temperature: 80°C.
Injected resin: Polycarbonate (TEIJIN Chemical, PANRITE PC L-1225L)
Temperature of melt: 300°C. Injection speed: 100mm/sec.
Dimension of injected parts: 70 X 70 X 2 (mm).
Cut out 10mm width strip from the pattern printed film, and pull it from polycarbonate body on Tensilon at 300 mm/min speed and measure 180-degree peel strength (kgf/cm).
Multi layer printing adhesion test results for IMD/FIM
| Test Ink | Test Binder | Peel out Adhesion Strength |
| --- | --- | --- |
| IPX-HF979 Black | IMB-HF006 Binder | 5.0~6.0kgf/cm |
Note: These results are only for our lab purpose and cannot be guaranteed.
Caution
In Forming process and Film Insert Molding process, the finished product may be affected by multiple factors, such as materials of substrates, printing conditions, forming/molding conditions besides printing inks. Deciding proper conditions by preliminary testing is strongly recommended before a commercial run.

Binder cannot be used by mixing with screen printing inks.
Safety and Handling
Use safety gloves and eyeglasses to protect skin and eyes. If the ink contacts the skin, wash with plenty of water and soap. In case of contact with the eyes, wash with plenty of water and soap and consult with a doctor. Containers should be tightly closed immediately after use, and store in a dark and cool place.
SDS is available. Please ask for a copy and read carefully before handling product.
Made2008.03.31SGTranslated2008.04.04CE
Related event information

Related inks