To improve the quality and function of plastic products
Technology lecture for FIM/IMD 3rd session: Explanation of the Forming Process.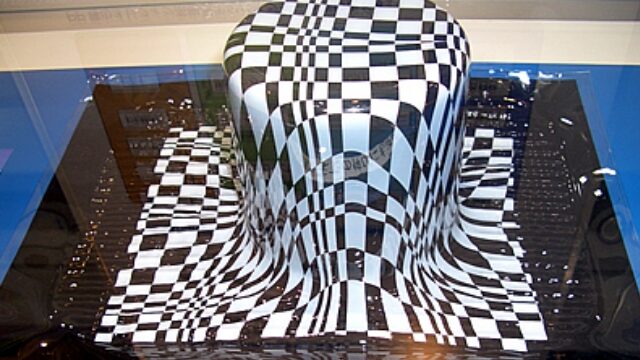 In this white paper we would like to describe "Forming"; that is: the second of 3 process stages involved in "Film Insert Molding (FIM/IMD: Film Insert Molding / In-Mold Decoration)" combining screen-print on plastic for injection molding.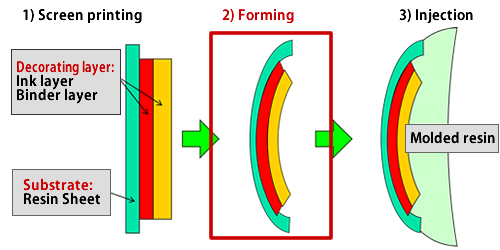 1.The second process in FIM/IMD: Forming (here signifies thermoforming)
Forming is the method whereby the previously extruded substrate is heated and made pliable to take the form of the mold before it cools and solidifies. After it has been formed into its final shape by vacuum pressure and compressed air, it is trimmed (finish-processing) and formed into its final product format.
As the major plastic molding methods, there are vacuum forming, pneumatic forming, press forming, etc.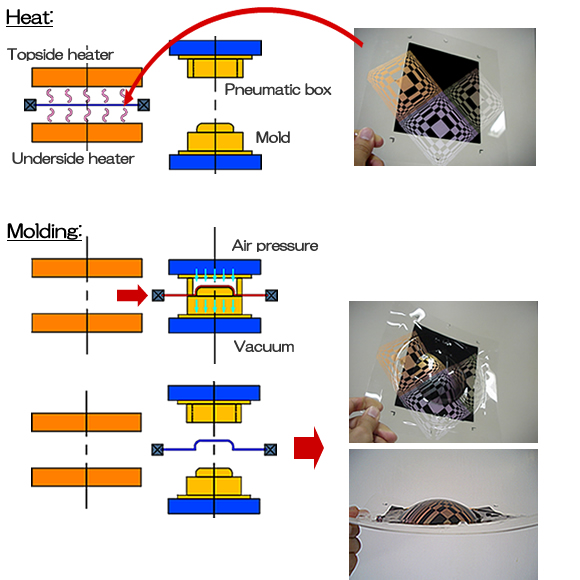 2.The problem to which we should pay attention in forming process
The problem that occurs in forming process of Film Insert Molding is "cracking of ink printed surface". This phenomenon can occur as a result of the inability of the ink printed surface to match the elongation of the resin sheet.
Illustrations of cracking in ink printed surface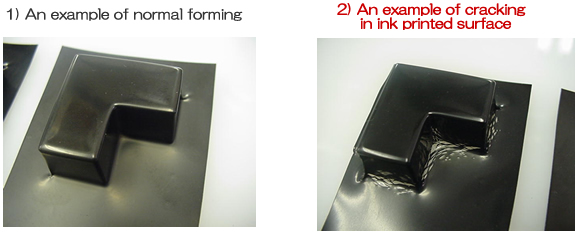 Measures for cracking in ink printed surface
To solve the problem of "cracking of ink printed surface" that occurs in forming process of Film Insert Molding, the ink is required to have a high flexibility that allows it to have elongation following the forming.
We supply ISX-HF and INQ-HF ink series with high flexibility
Note also that the elongation rate of 2 pack type inks can be reduced by excessive drying, which can result in cracking. Therefore, it is necessary to pay close attention to the presetting of the drying rate and molding condition.
This illustrates elongation of the ink film in full conformity with the substrate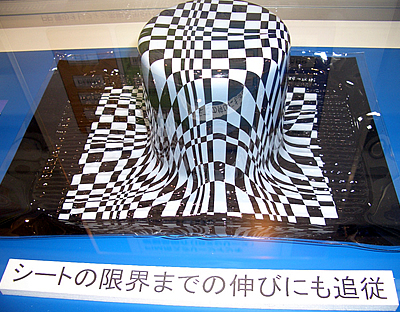 In our next White Paper (Final), we will describe the injection process.
We hope you will enjoy the next White Paper, the final in our FIM/IMD series
Please also refer to detailed information about molding inks referred to in this White Paper as follows.
ISX-HF
1 pack type
High elongation property.  Good workability with no pot life.
IPX-HF
2 pack type
Wash out resistance, high resistance of ink surface, heat resistance in forming and molding
INQ-HF
2 pack type
Flexibility and high resistance of ink surface in forming
IMB-HF006
IMB-HF009
1 pack type
Binder ink (Adhesive layer between molded resin and ink surface)(Use when using IPX-HF, INQ-HF.)
Related event information