Mirror Ink (Mirror effect ink), substituting metal plating
How to substitute Metal Plating?
This patented Mirror Ink can provide spectacular gloss finish like mirror.
(Patent No. 3151606, Patent No.3837597, Patent No.3837596)
This mirror ink is newly introduced to substitute the conventional method of metal plating. This is not merely a substitution of method, but we have achieved a new method which enable to decorate and design on various materials with metal like finish and it was difficult for metal plating method to achieve.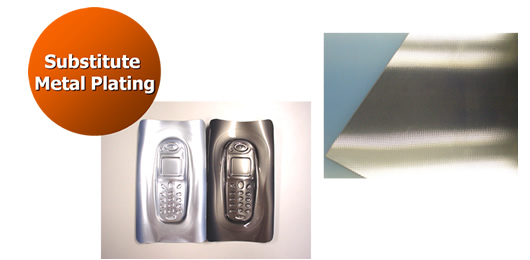 Principle and Structure of Mirror Ink
Structure of mirror ink is described as below.
By spreading out aluminum flake evenly on the film, it will create a high mirror reflection and gloss finish.
Mirror finish can be only observed from the film surface side.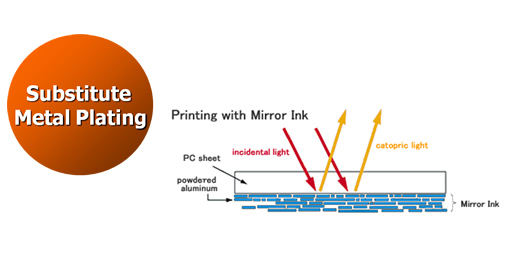 RESIN SHEET, INK, BINDER AND INJECTION FOR FIM (Mirror Ink)
Red Line: When PC and PC/PBT are used for the film, use MIB ink for back printing and use IMB-HF009 for binder. (Usage for IMB-HF009 binder is specially made for PC film)
However, we recommend to use PC, PC/ABS, and PMMA for the insert molten resin.
Blue Line: If PMMA and PET are used for the film, apply IPX-HF ink for backing of mirror ink and use IMB-HF006 for binder.
In addition, you can also use PC, PC/ABS, PMMA, ABS, and AS for the insert molten resin.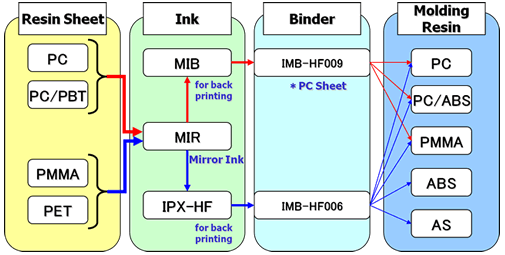 Introducing a New Ink: MIR-41000 Mirror Silver
MIR-41000 (mirror effect screen ink for PC and treated PET film) is superior to printability of pre-treated PET and polycarbonate.
Since this ink is free of chlorine vinyl acetate copolymer, it is human and eco-friendly screen ink. Mirror ink is applicable for home appliances, cellular phones, and other products and has good performance of cost reduction and environmental assessment.
Application
Provide superior printability to various types of polycarbonate and/or treated PET film for suitable replacement of metal plating, metalized film and hot stamping.
Applicable for display panels of home electric appliances, numeric keypads for cellular phones, membrane switches and other products.
Special futures
Excellent printability
Compared with conventional mirror inks, it has excellent printability with suitable viscosity and thixotropy. It is also applicable for various printing designs such as convex letters and solid letters.
Excellent mirror finish, printability, and cost reduction.
Compared with MIR-8100, it is more promising of mirror finish, printability, and cost saving.
Eco-friendly Ink
Since no hazardous substances are used like metal plating and chlorine vinyl acetate copolymer, this ink is eco-friendly ink.
On the next issue, we would like to introduce MIR-41000 Mirror Silver and a newly developed MIR Ink.
Related technology information

Related event information