Super gloss ink for Polycarbonate and Treated PET
MIR-41000 Mirror Silver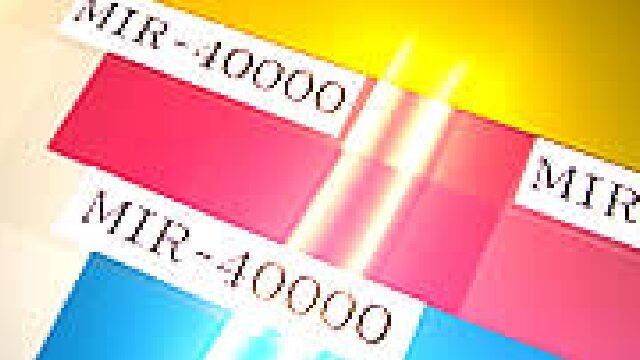 MIR-41000 Mirror Silver is an excellent mirror screen ink which has superior printability for polycarbonate and pre-treated PET.
Since this mirror ink is free of chlorine vinyl acetate copolymer, it is a safe and eco-friendly screen ink. Applicable for home appliances, cellular phones, and other products, it is economic and is an environmentally favorable material.
Special Futures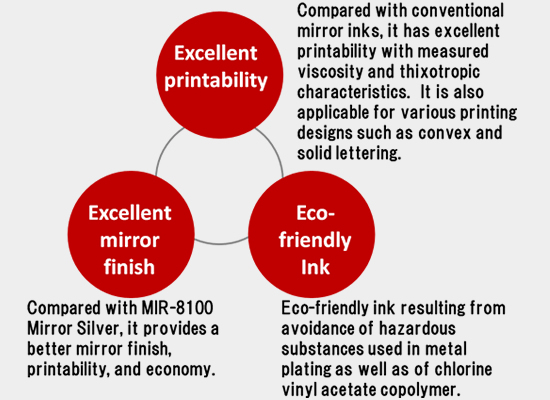 Excellent printability
Compared with conventional mirror inks, it has excellent printability with measured viscosity and thixotropic characteristics.  It is also applicable for various printing designs such as convex and solid lettering.
Excellent mirror finish, printability, and economy.
Compared with MIR-8100 Mirror Silver, it provides a better mirror finish, printability, and economy.
Eco-friendly Ink
Eco-friendly ink resulting from avoidance of hazardous substances used in metal plating as well as of chlorine vinyl acetate copolymer.
– Comparison Chart for MIR 41000 Mirror Silver –
The following chart illustrates results from tests done by Teikoku for purposes of comparing MIR 41000 with Teikoku's MIR Series inks and another company's ink.
Rating: 5 Superior ←→ 1 Inferior
 
Mirror Finish
Printability
No blur when printing
Printing Condition
Conveyer Drying
Conveyer Drying
Good printing under High humidity and temperature
 MIR41000

4.5

4

5

4.5

5

 MIR31000

3.5

3.5

3.5

4

5

 MIR-8100

4

3.5

3

4

3

 Another Company's
ink similar to MIR-8100

3

3.5

2

4

4
This is a good example of its excellent reflective qualities.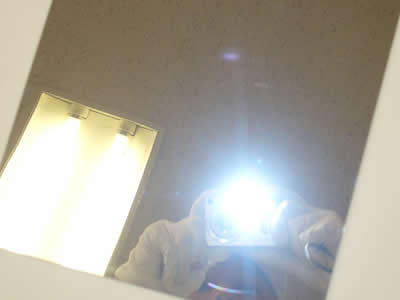 One of color variations.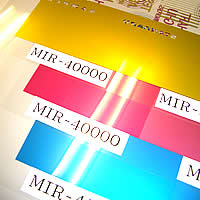 Sample of glossiness and color effectiveness.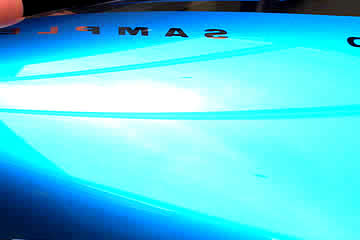 Application
 Provide mirror-like effect on polycarbonate and/or treated PET film suitable for substitution of metal plating, metallized film and hot stamping.
 Applicable for display panels on home electric appliances, numeric keypads for cellular phones, membrane switches and other products.
Printing
* The following are recommended printing conditions for MIR- 41000 Mirror Silver.
Stencil
T-300 Mesh
Dilution
Printable without dilution.
Drying Condition
80°C for 30min. (forced drying)
Catalyst
Catalyst not necessary for printing.
For stronger adhesion, please use 3% 200 Catalyst for molding Insert
If the ink is stored unused for a significant period, ink separation may occur. Stir well before use in that case.
Estimated coverage is about 40 to 50 m2/kg with T-300 mesh.
Mirror ink can be utilized on its own, but back printing is recommended for prevention of scratches and to provide better gloss and stronger resistance.
Mirror ink layer pile height should be less than 3µm, otherwise delamination of ink layers can occur between mirror ink layer and back printing ink layer.
Drying
Heat-assisted drying is strongly recommended. Drying conditions should be 80°C for 30 min.
After mirror ink is printed, please make sure to dry completely before back printing with MIB ink. Otherwise, delamination of ink layer may occur.
The following questions are frequently asked.
If you have other questions, please enter Q & A here.
When drying the print in a line oven it sometimes appears hazy. Why does this occur?
Upon further investigation with the customer, the printing conditions that caused this hazy appearance were discovered to be as follows. Mirror Ink was printed with a cylinder press and dried in a line dryer at a high temperature, thus the resultant hazy effect. The reason being: the initial drying at a high temperature. The recommended drying condition is 30 minutes at 80 degrees C, but in this case the line dryer was used for 2 minutes at 100 degrees C. When the substrate was dried at this high temperature with a great deal of solvent on it, the substrate was affected adversely and turned white.


How can we dry in a line dryer without getting haze?
You may avoid the hazy effect with following countermeasures:

Lower the temperature of the line dryer. (lower than 80 degrees C)
If the line dryer has several drying sections, set the temperature at the entrance section as low as 40-60 degrees C and evaporate the solvent as much as possible (preferably 80-90%).
Then the printed matter can be dried at 80-100 degrees C and evaporate the solvent completely. This should result in a good mirror effect.
Related technology information

Related event information